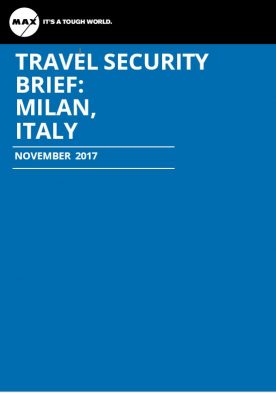 Executive Travel Security Brief: Milan, Italy
November 17
While Milan and Italy have seen little militancy compared to the rest of Western Europe, the threat of both lone wolf and organized attacks remains latent due to the country's position as a transport hub for jihadists.
Civil unrest and major protests occur fairly regularly in Milan and can occasionally involve localized scuffles with police forces, however, they rarely affect bystanders or cause disruptiosn other than to traffic.
Petty crime is not uncommon in Milan, partiuclarly in major tourist areas of the city. These incidents are rarely vioelnt but do tend to target foreign travelers specifically.
This report provides brief overview of Milan tailored for executives.