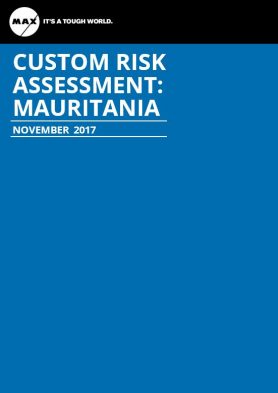 Custom Risk Assessment: Mauritania
November 17
Mauritania is generally a safe country for travel, with the main exceptions being the eastern half of the country, where there is a known militant presence, including in the border areas with Algeria, Mali, and Western Sahara. That said, despite Mauritanians having a noteworthy representation within regional Islamist militant groups, with many leaders hailing from Mauritania, along with kidnappings of foreigners in the previous decade, and a known presence of militants in the desert regions, this current decade has seen minimal militant activity against the government or civilians.
The cities of Nouakchott and Nouadhibou face a moderate risk from crime, although the threat has been increasing in recent years. Likewise, cases of civil unrest are not uncommon, with numerous incidents already recorded in 2017, although the threat remains mild.
As Mauritania is a conservative Muslim country, it is important to consider cultural sensitives when traveling in the country, including regarding the alcohol, pork products, dress code, among others. Finally, while the country has enjoyed relative political stability since 2008, this has been challenged in 2017 amid President Abdel Aziz's proposed constitutional reform.