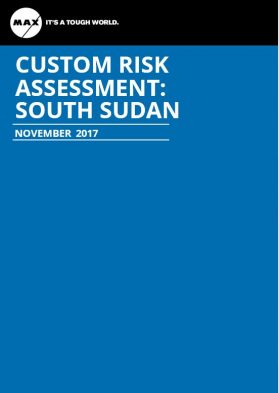 Custom Risk Assessment: South Sudan
November 17
Amid the ongoing South Sudanese conflict, much of the country's outlying areas remains engulfed, to one degree or another, in a state of lawless or outright hostilities. Erupting in 2013, a peace deal, drafted two years, failed to successfully be implemented, leading to a breakdown in diplomatic efforts and worsening instability.
Characteized by a distinct ethnic component, the conflict has historically pitted the country' two largest ethnic blocs, the Dinka and Nuer, against each other, with the fromer being the dominant ethnicity in the government's and military's upper echelon, while the latter composes the rank and file of the primary rebel group. In this context, a worsening, government-backed pattern of ethnic cleansing has been observed, with the South Sudanese military systematicaly carrying out indiscriminant violence and abuses against non-Dinka's in a bid to dislocate them from their territory. While these groups are involved in the lion's share of combat throughout much of the country, this prcoess of ethnic cleasning has also spurred highly localized fighting,  with militias and new rebel groups, representing smaller ethnicities and communities, emerging in an increasingly fluctuating and fragmenting security landscape. Amid this sprawling conflict, the humanitarian crisis, marked by over a million South Sudanese refugees outside the country and over a million displaced South Sudanese inside its borders, continues to worsen.
Nonetheless, at this time the security situation in Juba is likely to remain generally stable over the coming months despite a latent risk of armed crime and otherwise targeted violence. Though there is an elevated potential for civil unrest among the declining economy, this is likely to be mitigated by the government's proactive stance, as evidenced by a more recent deployment of troops across the city. Most importantly, the lack of an appreciable rebel presence in the capital and its environs are indicative of the this continued calm.